MASTERPIECE LONDON 2016
05.07.2016
Rose Uniacke are delighted to have, once again been part of the celebration of historical art and artefacts at Masterpiece 2016, in Chelsea Royal Hospital.
Amongst the chronicled relics and fine art, Rose Uniacke displayed key historical pieces collected by Rose herself, from varied timeframes and locations.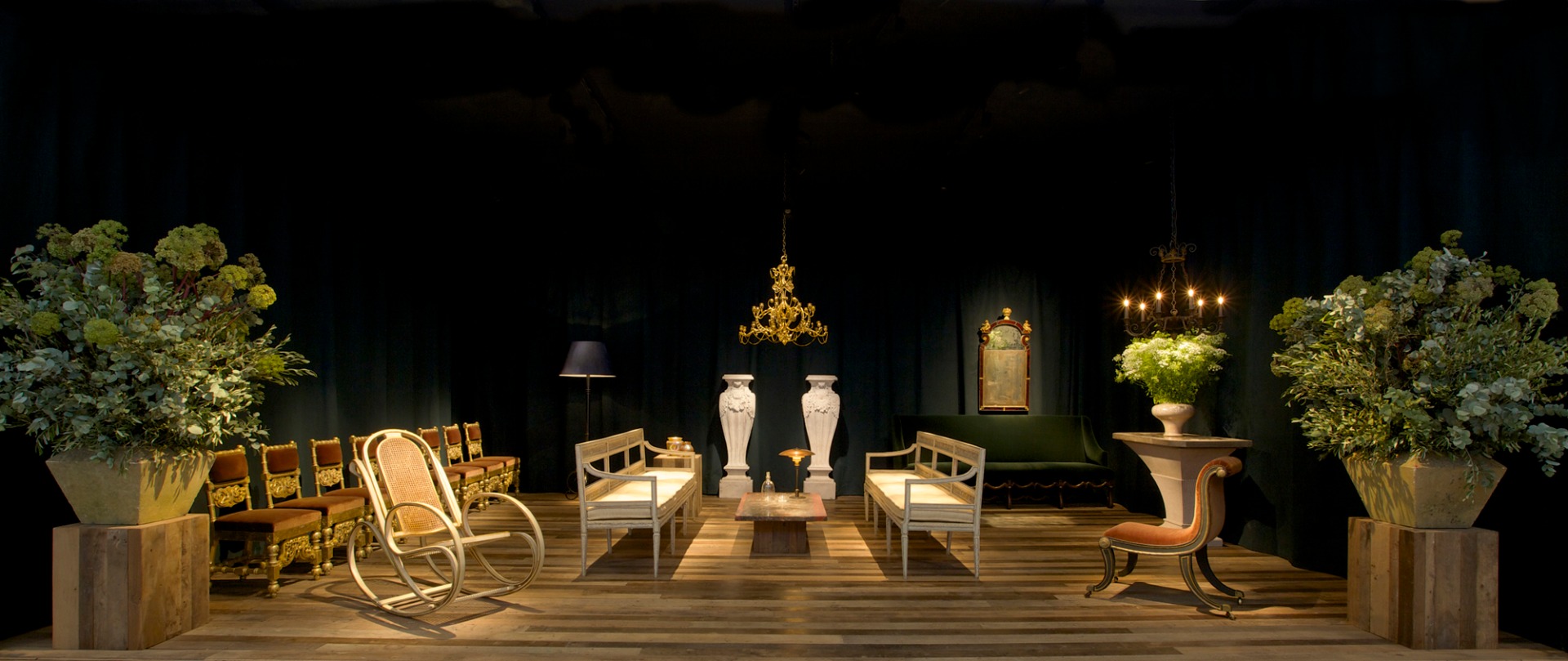 Notable features included:
A set of eight, early Victorian parcel-gilt and ebonised side chairs. Each chair has a ring-turned top rail carved with quatrefoils, horizontal strapwork-carved splat above a caned seat and a similarly carved front stretcher. These Elizabethan revival chairs have turned legs with lotus-caps with box stretchers. They are traditionally upholstered and covered in velvet. The chairs have seen through three decorative schemes prior to their recent dry scraping which returned their original oil gilding.
The history of these pieces details that they were supplied to George Bertie, 10th Earl of Lindsey (d.1877), of Uffington House, Lincolnshire and then handled by descent to Montague Bertie, 12th Earl of Lindsey (d. 1938). They were then passed on to his daughter, Lady Muriel Felicia Vere Bertie (d.1981), who married Henry Liddell-Grainger in 1922, Ayton Castle, Berwickshire.
The 18th Century Swedish pier mirror on the back wall bears the identical cresting and seated putti was sold at Sotheby's in Paris from the collection of M. Ghislain Prouvos. The use of shaped border-glass to outline the main mirror plates and gilt-lead mounts are prominent characteristics of this maker while the distinctive flower-filled baskets are a particular feature of Gustav Precht, whose work is often difficult to tell apart from his father, Burchard Precht. The frame of crimson glass with gilt-lead and giltwood mounts retains the original rectangular plate, with the shaped upper plate almost certainly replaced and gilt mounts possibly replaced.
The wall also features a rare survival of French provincial upholstery. The Os de Mouton sofa has retained the original filling of straw, wool, flock and horsehair, which have all been reused. The high upholstered back and seat is covered in fine green velvet and supported on a figured walnut frame. Carved sheep's horn-shaped stretchers give the iconic style its evocative name: Os de Mouton.
The space is centred with a monumental pair of sympathetically restored 18th Century carved limestone architectural pilasters from Northern Italy, each standing on a high square plinth with a simple moulded socle, contrasting against the dark background. The shaft of each column details four flutes, each with pounced decoration. The top socle is a reverse of the base with clasped acanthus leaves to the shoulders.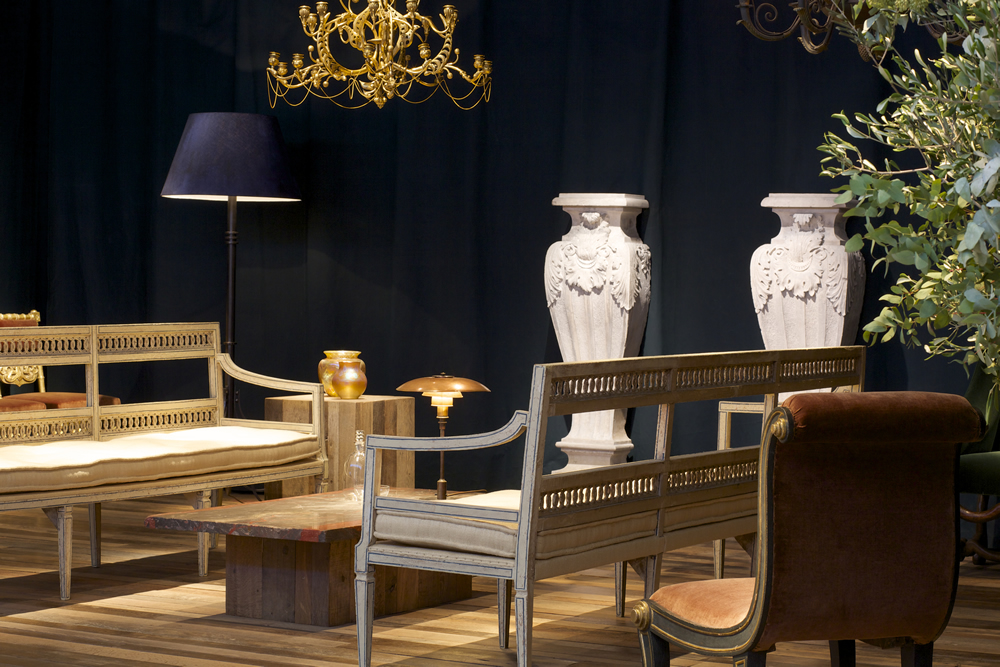 The neo-classical sofas are highlighted with a French forged iron floor lamp circa 1930, with a cylindrical shaft on a flamboyantly scrolled 'arabesque' tripod stand, with bead and disc decoration.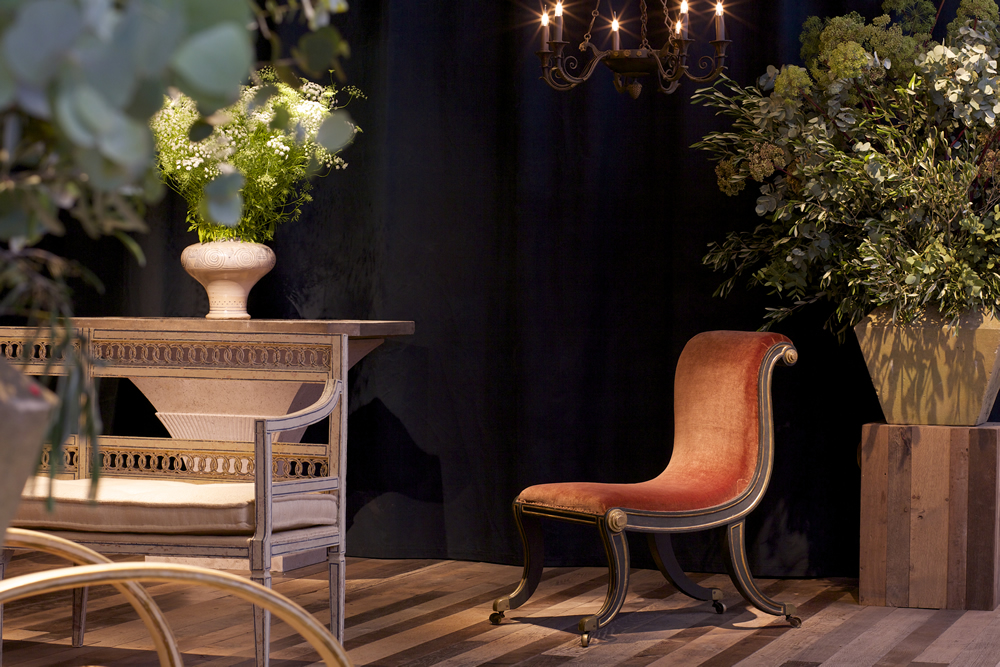 The front of the stand is framed by Cotswold stone geometric planters holding deep green foliage, which owe inspiration to the great British carvers working in the first half of the early 20th Century. One could imagine a bold Gill Sans inscription on each face.
A giltwood and faux bronze painted English chair circa 1807-1815, balances the central space with it's elegant, curvaceous and scrolling form. Carved on sabre front legs the regency side chair in the manner of Thomas Hope has exaggerated swept back rear legs with casters, and is traditionally upholstered with hand-stitched horsehair and covered with velvet. This is a chair directly made from Thomas Hope's own drawing in "Household Furniture".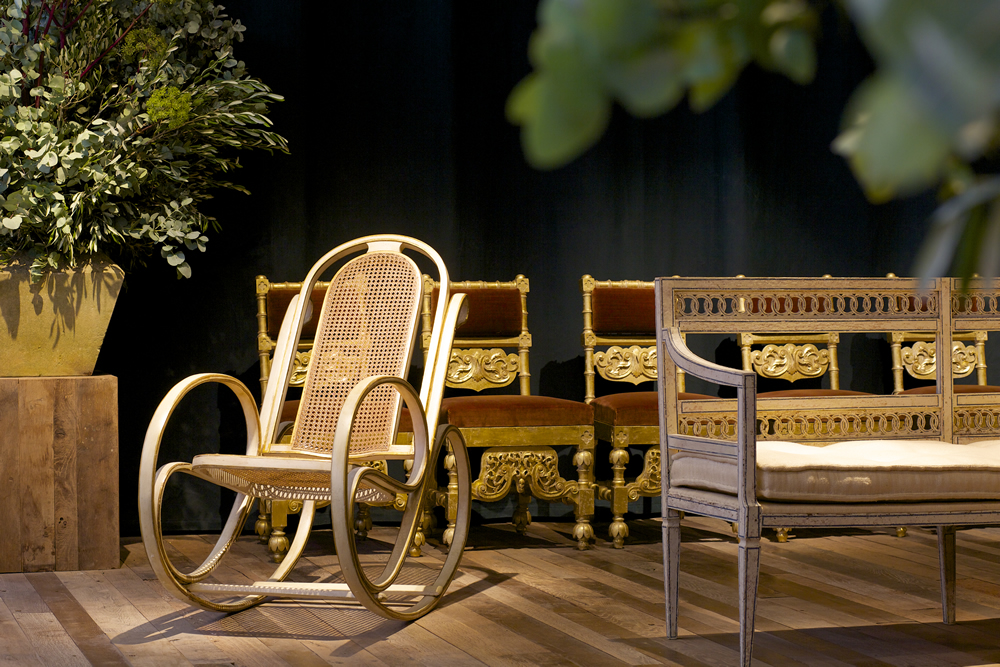 The opposite side of the room features an extravagant Italian art nouveau rocking chair, made 100 years later than the one, above by Antonio Volpe, circa 1915 of steam-bent beech with a caned seat and back. This piece takes the exuberance of Thonet's designs to new levels. Each side is composed of a single continuous molded member in a series of complex curves which have retained the original lacquered and gilt surface.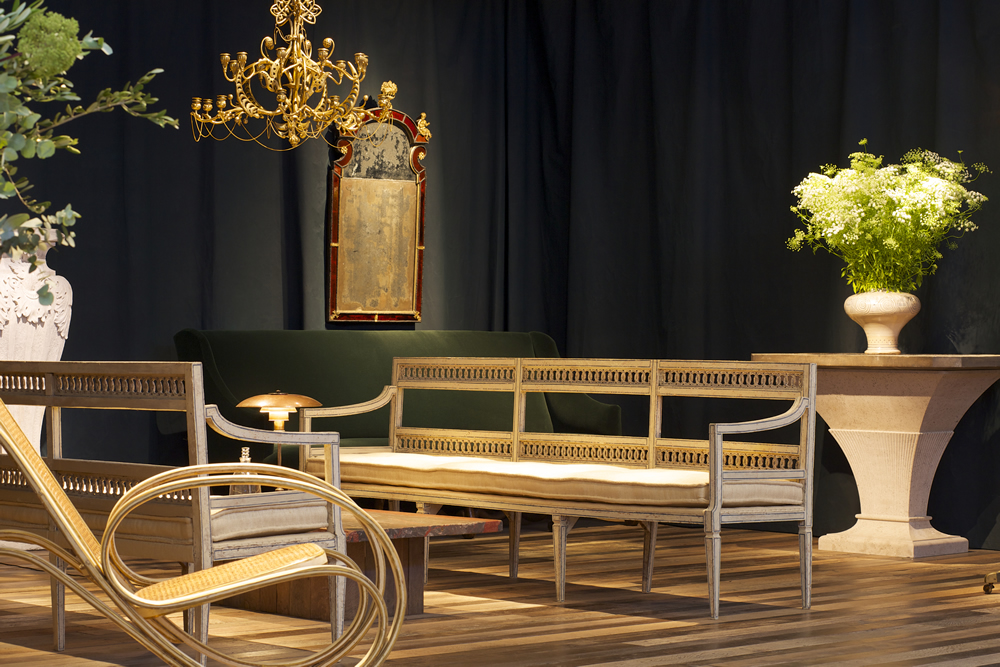 The right hand side of the room hosts a Blue John & Specimen marble table of George III Portland Stone. The thick rectangular top has canted front corners, wide border frames and a repeated pattern of specimen marble squares. The markings consist of Derbyshire fluorospars and include rich samples of Five-Vein Blue John & fossil specimens from the Once-A-Week quarry on the Chatsworth Estate.
An early French Primavera Baluster vase circa early 20th Century, with crackle glaze and blue sgraffito decoration adons the marble table holding a light, full bouquet of British wild flowers.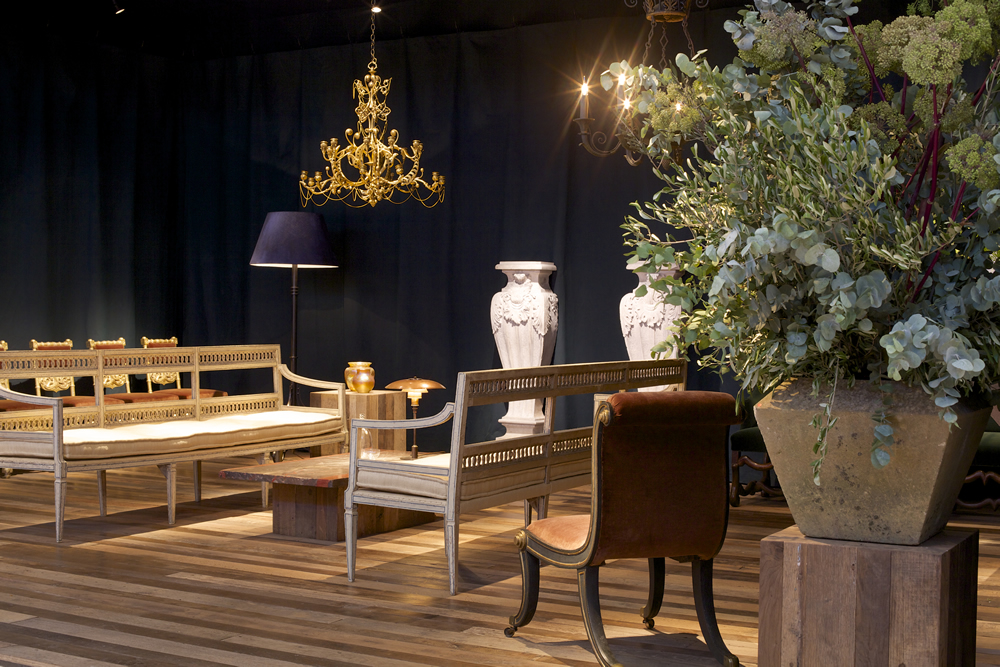 All pieces were brought together and lit by a French gilt bronze, twenty light chandelier, "Persan", engraved Geoffroy Dechaume, circa 1853. The extremely rare chandelier was most probably cast by Auguste Delafontaine. This chandelier was previously exhibited in 2013 and is mentioned in literature in 1998, in relation to the Association Amis Isle-Dame, De Plâtre et d'Or by Geoffroy-Dechaume (1816-1892), Sculpteur romantique de Viollet-le-Duc, Val d'Oise éditions. The same model is currently in the permanent collection of the Musée du Louvre, Paris.