MASTERPIECE LONDON 2019
25.06.2019
Rose Uniacke was delighted to exhibit at this Summer's Masterpiece 2019, in the grounds of London's Royal Hospital Chelsea.
Masterpiece is now widely acknowledged as the World's most prestigious international cross-collecting fair for furniture, art, design and jewellery - from antiquity to the present day.
Surrounded by the many exceptional pieces on offer, Rose's stand typified her ethos of juxtaposing and arranging the very finest antique objects and furniture in a thoughtful, contemporary way.
Curated across diverse time periods and geographies, her selection this year was centred around a free composition of Ceramic Briquettes by Pierre Digan, framed by sumptuously upholstered Cedar Velvet walling from the RU Fabric Range.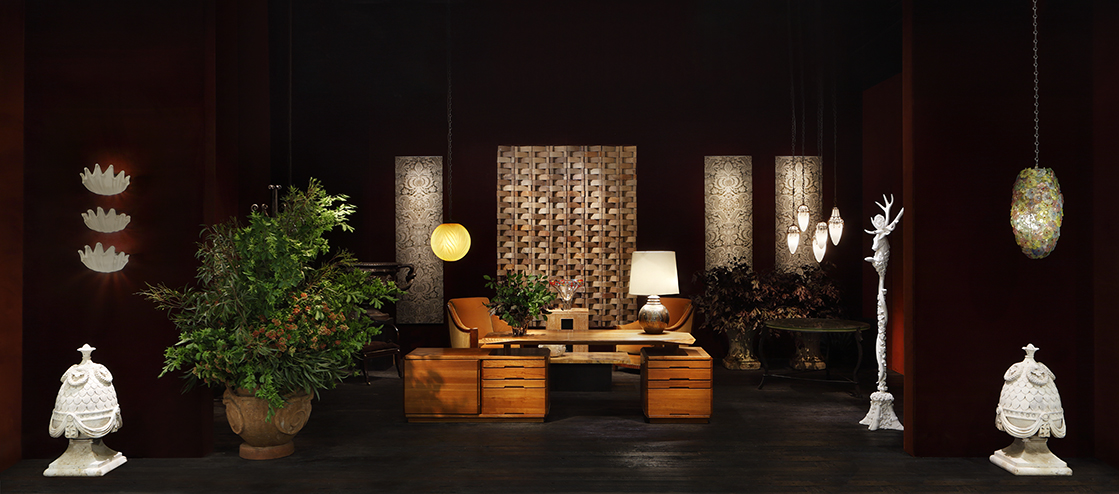 Highlights of this year's stand included -
The "Lante Vase", a monumental cast-iron replica by the Val D'Osne Foundry after Piranesi, cast from original fragments discovered in the ruins of Hadrian's Villa at Tivoli.
An unusual Rotating Bookcase in Oak, with niches lined in dark green leather, topped with a colourful "Murine" vase by Antonio Da Ros and flanked by a superb pair of Art Deco Rosewood Veneer Armchairs, attributed to Francisque Chaleyssin - upholstered in RU Java velvet.
A striking Pierre Chapo Desk, constructed in modular form from solid Elm in about 1980, balanced by the gently glowing globe of an Emille Galle light from 1905, hung low over one end of the desk with the silvered geometric decorations of a Dinanderie Table Lamp by Christofle on the other.
A group of French Art Deco ironwork pieces in the manner of Edgar Brandt, including a lavishly scrolled and coiled Wrought-Iron and Marble Console, a Mirror with stylized birds flowers and foliage and a grandly scaled Coat Stand with openwork plant decorations attributed to Raymond Subes for Genet and Michon.
A spectacular Art Deco Glass-Topped Centre Table with sand- blasted hollow decorations depicting the vision of St. Hubert beneath an Urn-Shaped Mezza Filigrana Pendant Lantern by Barrivier & Toso.
These key pieces were presented alongside several smaller decorative items - dramatically pin spot against the rich Cedar Velvet- including a pair of Wrought Iron Candelabra by Gilbert Poillerat, an extraordinary Plaster Totemic Sculpture attributed to Janine Janet, a pair of Early 19th Century Marble Over-Scaled Acorn Finials and a Polychromatic Glass Hanging Lantern by Seguso.