PAD LONDON 2016
13.10.2016
Rose Uniacke were delighted to exhibit at the 10th anniversary of PAD London in the historical Berkeley Square, which showcases collectables and rare art amongst new technological developments and ancient relics. Surrounded by the unique artistic pieces on display, Rose Uniacke displayed key pieces collected by Rose herself to create her signature scene of serenity.
The first room was alive with textured foliage held in old english pots circa the 1900s, showcasing various designs from angular stone planters to engraved terracotta, bringing nature inside. The room was lit by a twenty four sided pendant lantern in patinated brass with bevelled glass, hanging from a chain of elongated rings, in the original condition circa 1900. The natural oasis was also boosted by a flamboyant shellwork side table circa 1970, in the taste of Louis XV, encrusted in various shells of cowry, giant clam and scallops amongst other species.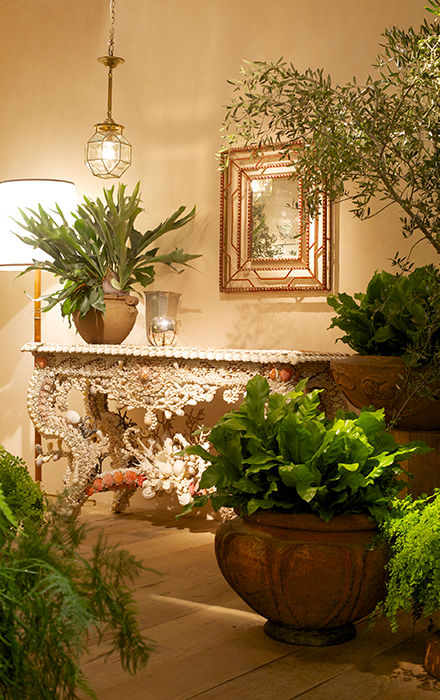 The ornate side table was enhanced by a gilded iron and bead mirror mounted above. The outline of this beautifully made mirror owes its pattern to the 'Marginal' or 'Cushion' mirrors of late Seventeenth century Northern Europe, however the frivolity of the decoration is far closer to that seen in the workshops of Venice - a fineness of line, colour & understanding of refracting light.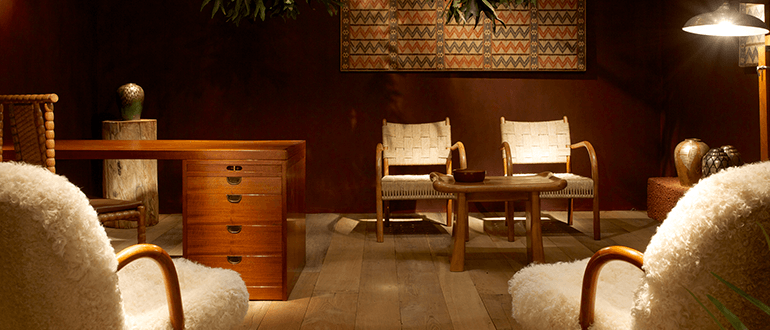 The second room continued natural the theme, featuring polished copper lantern above a pair of reupholstered light 'Muslinge-Stolen' clam chairs, the Danish teak veneer pedestal desk, fronted by a lathe-turned bobbin style Josef Zotti chair with a wood frame and the 'Banco Terrao' bench by Domingos Totora.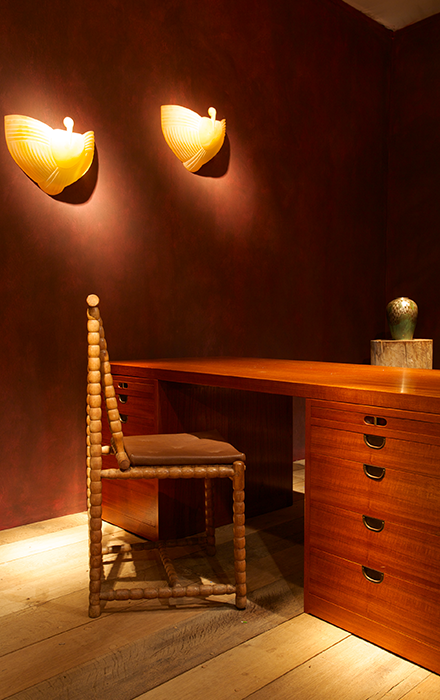 The pedestal desk was designed in 1958 and manufactured by Lauritsen & Son, in Denmark. Of handsome proportion and posture, it features finely coloured teak veneer with a rectangular top on plinth bases. The pedestals have four and five graduating drawers with the original brass handles.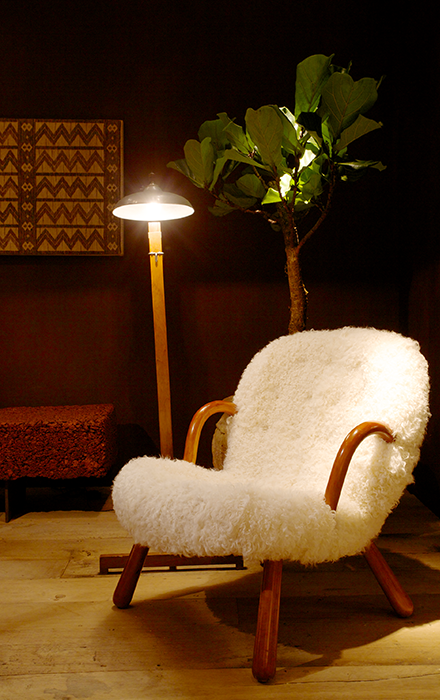 The clam chair has a squat beech frame, and features polished veneered beech loop armrests and club feet. They were falsely attributed to the phantom Norweigien designer Martin Olsen. After extensive research, Bruun Rasmussen Auction House have discovered that they were in fact designed by the Danish architect Philip Arctander (1916-1994) and were called "Muslinge-Stolen" (Clam Chair). This is verified by Arctander's colleague, architect Poul Erik Skriver, finally giving these chairs a solid attribution to Denmark, circa 1944.

The chairs were lit by the standard lamp, of experimental 'easel' form and electrification, with a tin shade and original horseshoe bakelite socket. The mechanism is similar to Dupre-Lafon's valet for Hermes. The lamp is probably French, circa 1930. The Banco Terrao bench of recycled and painted cardboard in a burnt umber hue, standing on simple iron supports, held a collection of detailed vases, including the art deco vase by Paul Mergier; a brass-ware vase with coloured patina, showing stylised fruiting vines and foliage.