PAD PARIS 2016
27.04.2016
Having been awarded the honourable title of 'Best Stand' at PAD London in 2015, which showcased a selection of Scandinavian Designers of the 20th century, Rose Uniacke was invited to the 'visual feast' of PAD Paris 2016 at The Tuileries Garden.
Eulogized to 'show at the home of PAD, under an umbrella of excellence and amongst other European interiors artists in Paris', Rose Uniacke commends the 'incredibly stylish' French who consistently execute design 'so beautifully'
Rose Uniacke detailed in an interview with BFM TV, that she was exceedingly inspired to be in the company of 'so many artists and such creative living space designs' making PAD Paris an exceptionally stimulating environment for interior designers.
The Rose Uniacke stand showcased a selection of contemporary 20th century design to celebrate PAD's 20th year anniversary. Each piece in the stand had been chosen for its potential to transform any interior space.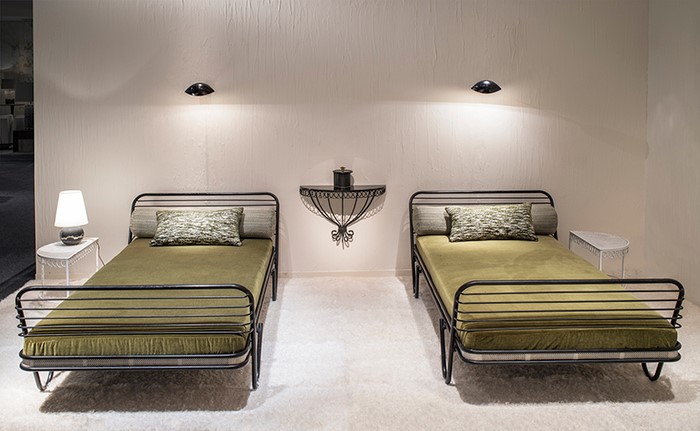 Key pieces from the display included French modernist daybeds by Raphaël, steel lit by a pair of matte black lacquered aluminium 'Oeil' wall lights by Serge Mouille, which evoked the image of a half-open eye, by brass highlighting the articulation point of the shade. These pieces were balanced by frame armchairs opposite, in the manner of Jean Burkhalter, of cast and wrought iron with a distinctive rhomboidal open arm frame, scrolled seat and top rails upholstered in antique French linen with removable buttoned head cushion and leather strapping, centred around a lambent green marble table, by Rose herself, illuminated by a dodecahedron pendant lantern in original condition, in painted brass and bevelled glass to each side, hanging from a chain of repeated large circular rings, by Adolf Loos, who belonged to the generation of central European artists, writers, designers and composers whose work influenced and introduced the Modern movement.
Raphaël, a self-taught designer for Maison Jansen in 1934, was quickly acknowledged for his style and designs of blended together furniture, décor and lighting in a new way. Furniture by Raphaël typically uses sharp lines but not without stringent flexibility and originality.
Jean Burkhalter made extensive use of metal, producing functional and light, simple and practical chairs in tubular steel.
The lambent green marble table was quarried in the province of Östergötland, in Sweden. Designed by Rose, it brought a refined, elegant aesthetic to the 20th edition of PAD Paris, reflecting her personal aesthetic. The Pendant lantern highlighted her predilection for light, air and space in pursuit of both simplicity and refinement.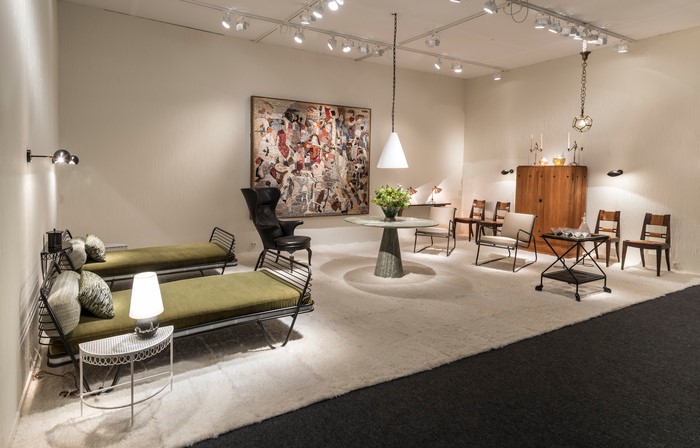 From her time in Paris, Rose has particularly noted a growing intrigue in interior design in the last ten years, especially amongst 'French and European clients showing interest in PAD' which has been reflected in auction house presentations and etiquette adaptions alike. PAD has been at the forefront of inspiring these establishments, catering for affluent dealers with a keen eye.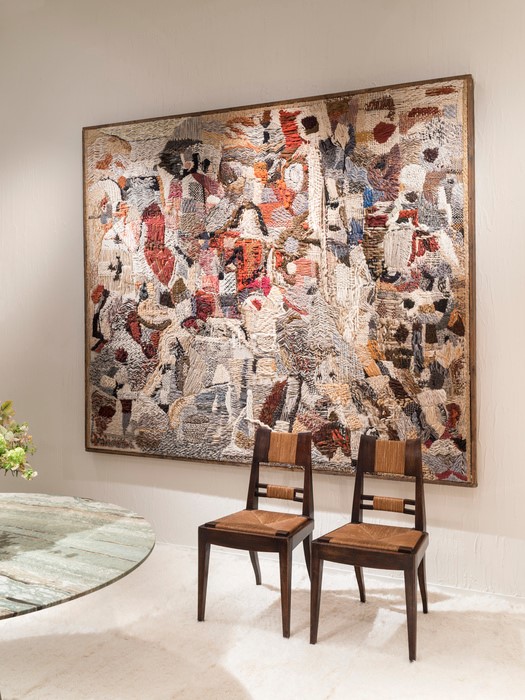 This specific contemporary tribal tapestry, "Snow Ride" by Sten Kauppi, created from freestyle embroidery in wool and linen and encapsulated within a wooden frame, received great interest. Kauppi received a lot of attention for his free embroidery style at his first solo exhibition in 1951. His work is included in several collections in Sweden, such as the Röhsska Museum in Gothenburg, The National Museum of Stockholm and the Royal Opera House in Stockholm.
The rigorous specifications of PAD's galleries enable consistent high standards to be maintained and enjoyed throughout the displays. Rose Uniacke's PAD Paris collection was acclaimed for notable pieces which included this elegant wing back chair of black leather and stained mahogany with original deep-buttoned and brass nailed upholstery, by Frits Henningsen (1889 – 1965) below.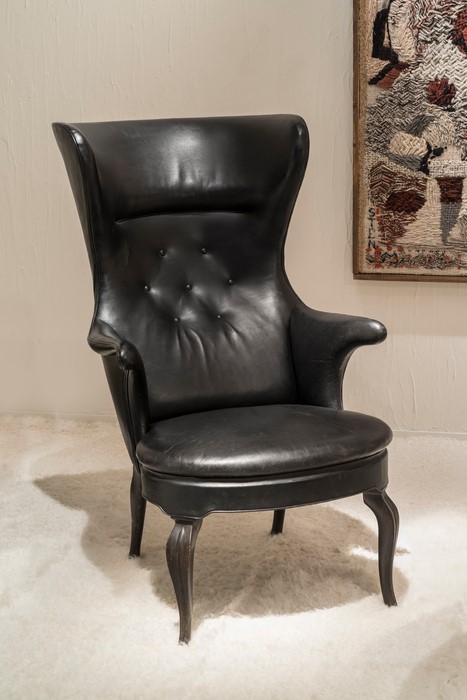 Rose Uniacke greatly appreciated exhibiting with the best interior designers as part of the PAD Paris experience, which has shown itself to be an inspirational and acclaimed event.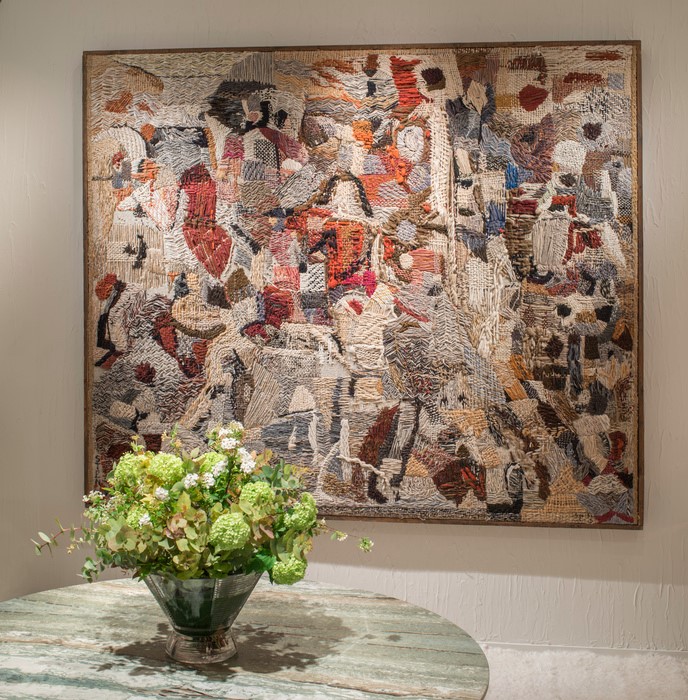 To see more of the Rose Uniacke' PAD Paris collection click here.